CVBASE '06 Dataset
To encourage research on computer vision in sport environments, the organizers of CVBASE 2006 provided a dataset, which is available for download from this page.
PLEASE NOTE: Use of CVBASE '06 Dataset is not a prerequisite (or guarantee, for that matter) for acceptance of your paper to CVBASE '06 Workshop. In other words, you are welcome to use your own data. We provide this dataset as a convenience.
The CVBASE 06 Dataset consists of three types of data:
Video data (.avi, DivX compressed)
Annotations (individual player actions, group activity). Suitable for use as a gold standard.
Trajectories (player positions in court and camera coordinate systems). These are not intended to be used as a gold standard, since their accuracy is not particularly high.
Dataset includes three types of sports:
European (team) handball (videos, trajectories, annotations)
Squash (videos, trajectories, annotations)
Basketball (videos only)
Matlab interface for easy access to all types of data is also provided - however, Matlab is not required for use of the dataset. All the data is in common formats (DivX .avi, tab separated text files) and could be read with variety of applications.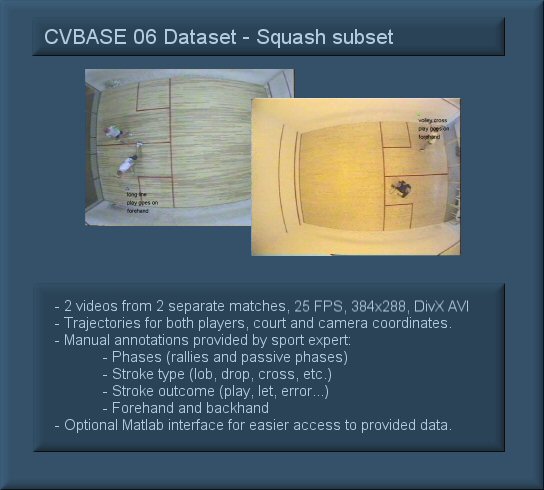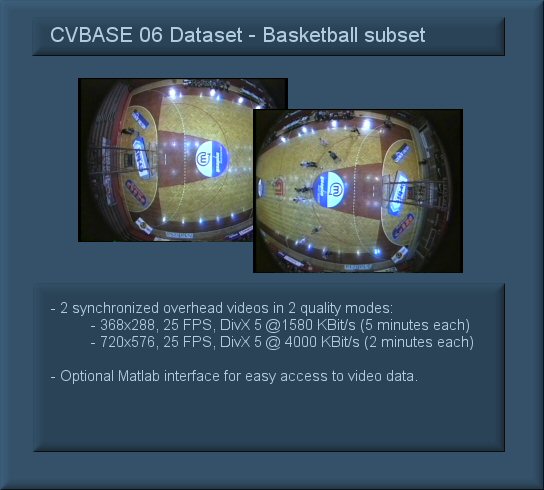 Click here for CVBASE '06 Dataset Download
Download manual (already included in the main download)
CVBASE06 Dataset Errata (Dec-09-05)
PLEASE NOTE: Links below will take you to the external download sites. We are in no way connected with software authors and do not offer any support.